RWT-4600i Heart Valve Real-Time Wear System
AVAILABLE SPRING 2021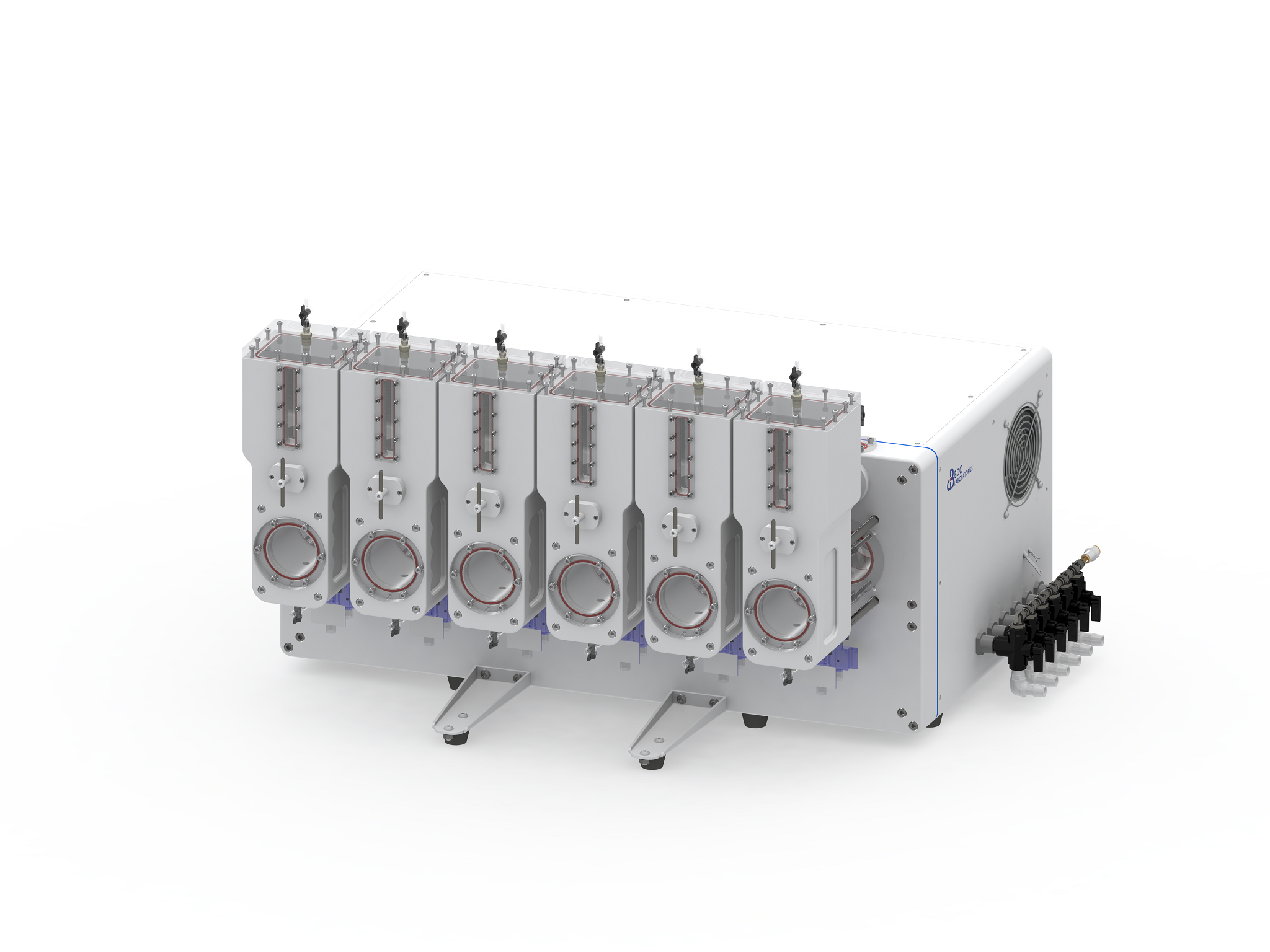 BDC Laboratories' RWT-4600i heart valve real-time wear tester is built on the VDT-3600i proven test platform, both in hardware and software, which facilitates the highly distinctive ability to operate both as a real-time test system and accelerated test system. The RWT-4600i tester is designed for evaluation of both transcatheter and surgical heart valve technologies and is in compliance with the latest ISO 5840 requirements. The test system has Completely Independent Test Stations, incorporating Completely Independent Electromagnetic Drivers which allows each test station to be set Totally Independently (both in displacement and frequency). The RWT-4600i real-time heart valve tester moves the fluid through the test valve using our proven RB-5 driver technology, equivalent to the VDT-3600i, to produce the opening and closing dynamics representative of clinical performance at both real-time frequencies and accelerated frequencies. The RWT-4600i heart valve real-time system is available in both a 6-station and 2-station platform.
The RWT-4600i valve real-time system is controlled and monitored by our proprietary Statys® RWT closed-loop control and monitoring test software. This software is equivalent to the established and proven Statys® VDT platform with many unique and patented features integrated, including: driver excitation waveform definition and control, differential pressure waveform analyzer with a ISO criteria specific counter, closed-loop control on differential pressure loading, continual monitoring of the real-time differential pressures in all test stations and individual station alarm capabilities for monitoring of test conditions.
Ability to operate at both real-time and accelerated frequencies
Six independent test stations / six independent drivers:

Test different size heart valves simultaneously
Test different heart valve configurations simultaneously
Set each station to different test conditions

Sample Capacity: 2 to 6
Sample Sizes: Up to 90 mm
Excitation Waveforms: Sine & Modified Sine (std), Arbitrary (optional)
Test Fluid: Water, Saline, PBS Solution
Operating Frequency: 2 Hz (120 cpm) to 50 Hz (3000 cpm)*
Heart Valve Differential Loading Capability: 500 mm Hg
Operating Temperature: up to 50 °C
Regulatory Compliance: Complies with ISO 5840, and all applicable European Union directives and standards for safety and EMC. CE Marked.
*actual test frequency is dependent upon heart valve size, frequency & target displacement

Patented arbitrary waveform driver excitation with integrated waveform creator to minimize pressure spike at accelerated frequencies
Loading waveform analyzer for each station to determine test adherence to ISO 5840 with independent ISO 5840 criteria cycle counter
Closed-loop, autopilot driver control to user defined target differential pressure loading on each station
Independent control of each test station's excitation waveform, frequency and stroke conditions
Simultaneous continual monitoring and logging of the real-time differential pressures of all test stations
Real-time alarms and safeguards to protect both the system and test samples
User-focused software environment to facilitate ease of system operation
ISO Criteria Waveform Analyzer: The ISO Criteria Waveform Analyzer is a software module that determines whether every waveform of each valve met the ISO differential pressure loading criteria. After data have been processed, the statistical results are displayed along with an overlay of the waveforms themselves. Included is a secondary cycle counter that enumerates the total number of loading cycles actually meeting the ISO differential pressure loading requirements.
Arbitrary Waveform Creator: The Arbitrary Waveform Creator module enables the user to define and save customized motion waveforms. These waveforms can then be loaded and run by each station motor, allowing the user to optimize the opening and closing performance for the particular test valve.
Secondary Output Trigger: The Secondary Output TTL Trigger facilitates a means to synchronize the actual temporal differential pressure waveform data with an external high-speed camera system for a time-synchronized means of evaluating leaflet kinematics during real-time and accelerated cycling.
Alarm Output Trigger: The Alarm Output Trigger option allows the user to configure a digital signal for use in triggering external hardware in the case of a system alarm.
Multi-station Temperature Monitoring: The multi-station temperature monitoring option increases the number of system temperature probes to present one for each test station to facilitate continual monitoring of fluid temperature on all test stations concurrently.
Low Pressure Regulator: The Low Pressure Regulator is a precision pressure regulator designed for applications that require high resolution such as the VDT-3600i System. The Regulator features control sensitivity of 1/8″ water column, a pressure range of 0-10 psi, and a balanced supply valve to deliver consistent and reliable accuracy to maintain the system desired set point regardless of supply pressure changes or flow conditions.
Silent Air Compressor: The optional Silent Air Compressor is a whisper quiet air compressor featuring an inline regulator and moisture trap with a noise level of a mere 30 dB. The Compressor features a convenient carry handle on top with an operating pressure range of 55-85 psi.
Silicone Mock Vessels: BDC Labs offers certified silicone mock vessels in straight, curved, bifurcated or custom, customer defined configurations for mounting transcatheter heart valve frames and other endovascular implants on the VDT-3600i. Our mock vessels can be fabricated and certified to a diametric compliance or wall thickness, and the certification can be performed at various pulse pressures to meet your specific requirements (e.g., 160 mmHg/80 mmHg).