PQT-5000 Heart Valve Production Quality Test System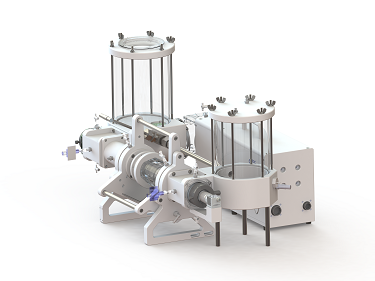 The PQT-5000 is the first pulsatile flow heart valve functional performance test system designed specifically for the production environment. This highly advanced system integrates key attributes such as rapid valve exchange for high throughput, multiple cameras to document leaflet kinematics and 21 CFR Part 11 software that integrates both hydrodynamic data and video. The heart valve is assessed against a battery of user-defined QA performance metrics, providing a clear pass-fail result for each valve in a rapid, reliable and highly consistent manner.
The PQT-5000 assesses the functional heart valve performance and leaflet kinematics through a range of parameters such as:
Forward flow pressure drop
Regurgitant volume
Effective orifice area (EOA)
Coaptation center point
Central jet area
Leaflet pinwheel
Leaflet opening/closing dynamics
Leaflet edge alignment
The PQT-5000 is an integrated test apparatus that includes the atrial and ventricular chambers, a compliance chamber, peripheral resistance and a valve rapid-exchange mechanism driven by BDC Labs PD-1100 Pulsatile Pump. The system interface is achieved through BDC's Statys® PQT software. Following detailed consultations with each client, BDC customizes each system for the specific requirements.
Highly Versatile for evaluation of all Heart Valve Technologies
Test Article Rapid Exchange Mechanism

Facilitates high throughput for heart valve evaluation
Test fluid is maintained within the test system and at temperature

Test system fully compatible with chemical sterilization
Integrated video with image analysis to document performance (optional)
Frequency: 30 – 190 bpm
Stroke Volume: 0 – 300 ml
Flow rate: 1 – 10 L/min
Excitation Waveforms: Sine & Modified Sine
Sample Sizes: Up to 80 mm
Test Fluid: Saline, Custom
Operating Temperature: up to 50 °C
Regulatory Compliance: Complies with 21 CFR Part 11, and all applicable European Union directives and standards for safety and EMC. CE Marked.
Three levels of test system login: Operator, Engineer or Administrator
Operator selectable, pre-defined system configurations for a repeatable and controlled test environment
Integrated test article pass/fail/undetermined selectable flags
Concurrent real-time display and recording of hydrodynamic and video data
Recording of multiple cycles of both hydrodynamic and video data
Online measurement tools for acquired video images
Integrated bar code scanner and digital stamping of video images
Real-time safeguards to protect both the system and test samples
21 CFR Part 11 compliant with automatically generated test reports
Bar Code Scanner: For absolute traceability, the integrated bar code scanner will acquire that test article identification and document it within the software and test report.
High Speed Cameras: Up to 5 high speed cameras at 1280×1024 resolution are available for the system to provide high fidelity when documenting the leaflet kinematics.
Automated Image Analysis: Automated image analysis algorithms interrogate the capture video to automatically determine key valve attributes automatically through software algorithms.
Ultrasonic Flow Meter: Temporal inline flow can be measured and documented with a customized, ultrasonic flow meter located just proximal to the heart valve test article.
Stainless Steel Assembly: To enable the entire test assembly to be autoclaved, the PQT-5000 can be manufactured completely from stainless steel and other autoclave compatible materials.
Calibration Reference: Custom designed calibration reference of all camera to convert pixels to physical dimensions (e.g. millimeters).
Adjustable Lighting Source: Optimal system adjustable LED lighting system that includes either ring or panel lights to optimal video imaging.
Heating Circulation Valve: System valve to utilize at a test article to facilitate heating during initiation of test system.
Drip Tray: Test system drip tray designed to integrated with the test apparatus and capture all fluid leaks.