HDT-500 Heart Valve Pulse Duplicator System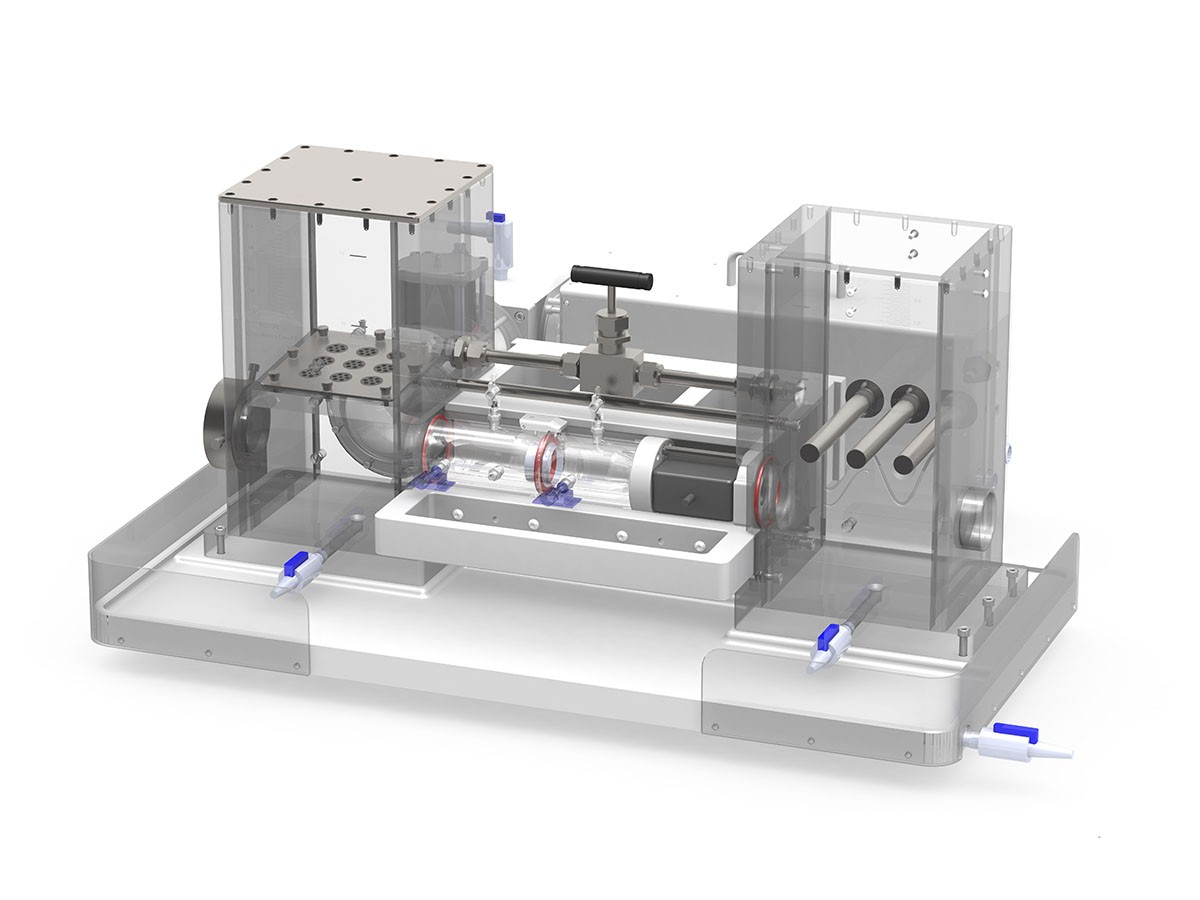 BDC Laboratories' innovative HDT-500 heart valve pulse duplicator test system achieves ISO 5840 pulsatile testing requirements in a focused, efficient, and user friendly manner for both surgically implanted and transcatheter aortic and mitral heart valves. The HDT-500 can easily be configured either as a left heart simulator or right heart simulator. Using a novel drawer-style fixture assembly, there is no need to drain the system between tests and changing the test article occurs in minutes to significantly increase productivity. BDC's proven PD-1100 pulsatile pump is the fluid driving source for the HDT-500 pulse duplicator system yielding high beat-to-beat repeatability and dynamic configurability. Optical visualization ports on both the inflow and outflow of the test valve allows for visualization from either orientation.
The accompanying Statys® HDT control and monitoring software gives the user absolute control over the pulse duplicator excitation waveform. The real-time data collection and analysis tools impeded in the software provide instantaneous measurement the device parameters, such as pressure drop, effective orifice area, regurgitant volumes, and leakage rates.
Drawer-Style Operation:

A sliding drawer holds the heart valve test article to facilitate quick changes of test articles
Changing of the heart valve test article can occur without the need to drain the system fluid

Heart Valve Type: Aortic, Mitral, Pulmonary or Tricuspid
Heart Valve Size: 65 mm (std), 80 mm, 95 mm (optional)
Flow Rate: 0-10 L/min
Driving Waveform: Sinusoidal, Arbitrary
Frequency: 2-240 bpm
Test Fluid: Water, Saline, PBS Solution, Blood Analog
Temperature: up to 50 °C
Flow Monitoring: Ultrasonic or Electromagnetic Technology
Regulatory Compliance: Complies with ISO 5840, and all applicable European Union directives and standards for safety and EMC. CE Marked.
Integrated data collection and analysis tools to determine all required ISO 5840 and FDA test parameters either real-time or through post processing
Real-time separation of the continual waveforms into individual beats ease data review
Sinusoidal or arbitrary waveform driver excitation accurately simulates clinical performance
Beat analysis reduced data is summarized and output in excel format to quick processing
All temporal signals can be output and saved in high-fidelity for post-test waveform analysis
User-focused software environment to facilitate ease of system operation
Multipurpose Ports, MpP: The HDT-500 offers two Multipurpose Ports located in line with the test valve on both the
inflow and outflow aspects. These ports are exchangeable and facilitate the insertion of either optional glass viewing windows for exceptional sample visibility/photography, custom magnifying windows, or the implementation of hemostatic valves for real-time
valve deployment in the system.
Heart Function Emulator, HFE: The HFE emulates contractile and resistive conditions of the heart, resulting in more
clinically relevant flow waveforms and pressure profiles for cardiac valve testing. The HFE consists of an impedance element and compliance chambers.
Flow Meter with Probe: Customized ultrasonic flow meter with probe gives precise, temporal volume flow measurement.
Low Pressure Valve Module, LPV: The LPV consists of specific HDT-500 system elements for low pressure applications such as pulmonary valves, tricuspid valves, and venous valves.
Automated Drawer Activation, ADA: The ADA system allows the user to automatically open and close the Valve Exchange Drawer. This option is particularly useful when testing a large number of valves on a regular basis.
Large Valve Drawer: The HDT-500 can evaluate a sample up to 65 mm in size. A Large Valve drawer is available for mounting valve samples up to 80 mm.
Extra-Large Valve Drawer: The HDT-500 can evaluate a sample up to 65 mm in size. An Extra-Large Valve drawer is available for mounting valve samples up to 95 mm.