Mitral Valve Simulation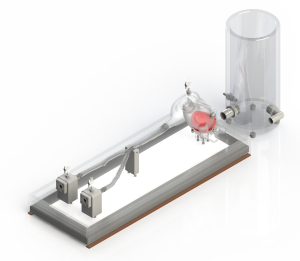 The Transcatheter Mitral Heart Valve Simulated Use Solution from BDC Labs provides a turn-key platform to evaluate both Mitral Valve Replacement (TMVR) and Mitral Valve Repair technologies for the treatment of Mitral Regurgitation (MR), including:
Mitral Valve Replacement
Leaflet Plication / Mitral Valve Leaflet Clips
Leaflet Space Occupiers
Annuloplasty Rings and Bands
Coronary Sinus Annuloplasty / Reshaping
Chordae Replacement
This heart valve mock circulatory loop (MCL) consists of the right atrium, left atrium, left ventricle, functioning silicone mitral valve with chordae, inferior vena cava, and the femoral veins. Either a pre-defined septal hole or replaceable, puncturable septum is present between the left atrium and the right atrium. The model facilitates transcatheter delivery system access with integrated hemostatic valves at the femoral veins and transapically. Additional, custom access approaches such as direct aortic and subclavian routes can also be integrated into the simulated use system.
System features and benefits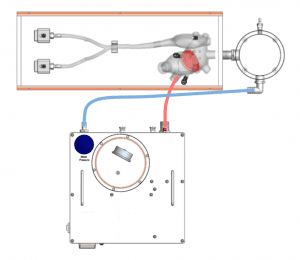 Clinically relevant bench scale model for development activities and training cardiovascular interventionists
Clear, heart (rigid or compliant) allows visibility of the Mitral Valve in situ
Clear, compliant silicone vasculature allow visibility of the delivery system and device
Functional silicone Mitral Valve with Chordae is easily installed/removed
Mitral Valve Chordae can be grouped, adjusted and tensioned as desired to affect valve performance
Mitral Valve features realistic, valve movement and leaflet geometry
Femoral Vein / Transseptal and Transapical access is standard
Integrated hemostatic valves accommodate delivery system entry via femoral and transapically access
Drip tray catches any fluid spills during testing and simulation
Mock vessel supports ensures the mock vessels retain their 3D configuration during procedures
PD-0750 Portable Pulse Duplicator offers temperature-controlled, clinically relevant pulsatile environment
Real-time pulsatile pressure adjustment without stopping the simulation
Portable, with optional rugged, hard-sided travel case for air-travel
Request Information
Request a Demo
Request a Quote
Simulated Use Systems
The Transcatheter Aortic Heart Valve Simulated Use Solution from BDC Labs provides a turn-key platform to evaluate procedures for the treatment of aortic valve stenosis.
Read more »
BDC Labs' Simulation Training Suites for Heart Valves and Endovascular Devices (Stents, Stent Grafts, Catheters) are custom, turn-key solutions that provide a simulated clinical environment for training.
Read more »
BDC Labs' Transcatheter Heart Valve Simulated Use Solutions, and all other Cardiovascular Solutions can be customized to suit your requirements and operating environment.
Read more »