Aortic Valve Simulation
The Transcatheter Aortic Heart Valve Simulated Use Solution from BDC Labs provides a complete, turn-key platform to evaluate Transcatheter Aortic Valve Replacement (TAVR/TAVI) procedures for the treatment of aortic valve stenosis.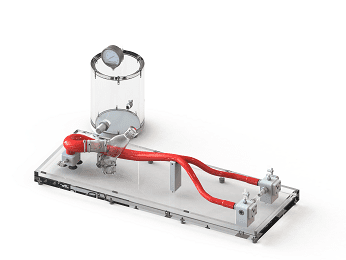 This heart valve mock circulatory loop (MCL) consists of a left ventricle, functioning silicone aortic valve, aortic arch, descending aorta and femoral arteries. The model has access ports with integrated hemostatic valves at the femoral arteries and transapically to facilitate advancement and delivery of TAVR implants. Additional, custom access approaches through direct aortic or femoral vein can also be integrated into the simulated use system.
System features and benefits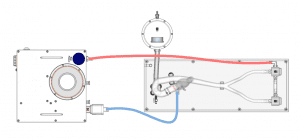 Clinically relevant bench scale model for development activities and training cardiovascular interventionists
Clear, rigid left ventricle allows visibility of the Aortic Valve in situ
Clear, compliant silicone vasculature allow visibility of the delivery system and device
Functional silicone Aortic Valve with realistic leaflet motion easily installed/removed
Femoral Artery and Transapical access is standard
Integrated hemostatic valves accommodate delivery system entry via femoral and transapical access
Drip tray catches any fluid spills during testing and simulation
Mock vessel supports ensures the mock vessels retain their 3D configuration during procedures
PD-0750 Portable Pulse Duplicator offers temperature-controlled, clinically relevant pulsatile environment
Real-time pulsatile pressure adjustment without stopping the simulation
Portable, with optional rugged, hard-sided travel case for air-travel