SLIC™ Friction Reduction Coating
BDC's proprietary SLIC friction reduction coating is a surface treatment that serves to significantly reduce surface friction and tackiness, specifically on silicone mock anatomies and mock vessels.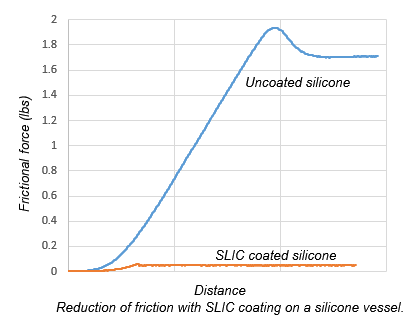 BDC Labs' proprietary process for applying the SLIC coating produces an ultra-thin, gap-free, conformal coating of all exposed luminal silicone surfaces, providing a uniform, ultra-low-friction surface. The clarity of BDC's silicone is maintained on anatomies and vessels coated with SLIC when wetted, making visual monitoring of the sample within a coated silicone vessel or anatomy convenient. Once applied to the surface, the SLIC coating forms a durable layer that will perform repeatably for in excess of 100 tracking cycles.
Advantages of coating with SLIC™
Creates a more clinically relevant environment than uncoated silicone
Promotes ultra-low friction advancement of stents and endovascular devices within mock anatomies and vessels
Reduces insertion force on delivery systems during advancement, deployment and retraction, preventing potential damage
Virtually eliminates 'stick-slip-stick' effect between silicone and delivery systems to promote a higher level of deployment accuracy
To learn more about the benefits of SLIC™ coating and how it can make tracking and deploying easier and more clinically relevant, download our brochure. Better still, ask us for a free SLIC™-coated sample!